Lucketts of Watford is the authorised training provider of -
PATS / MIDAS Authorised trainer
Driver CPC
OCR Transport Manager
---



---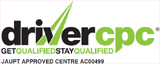 Lucketts can provide a range of JAUPT approved courses. The training can be completed in flexible 7 hour blocks. All professional LGV & PCV drivers must undertake 35 hours of training in every five year period. Courses are available at great rates.
This qualification is offered on behalf of the Department for Transport and in relation to the current EU Directive. It is suitable for those wishing to enter the profession of Road Haulage and Passenger Transport Management or demonstrate professional competence to meet the Operator Licensing requirements.
Lucketts offer the full range of MiDAS (Minibus Driver Awareness Scheme) and PATS (Passenger Assistant Training Scheme) programmes for Drivers, Passenger Assistants and Trainers. This covers training for staff or volunteers not just working in minibuses but also cars, MPVs, taxis and coaches. Organisations that operate vehicles, which could include minibuses, people carriers or cars, not only have a Duty of Care to passengers but also to their drivers and passenger assistants (formerly called escorts). Failure to provide specialist training (especially if you expect staff or volunteers to operate specialist equipment in specialist vehicles) could lead to some interesting questions in court, should something go 'pear shaped'!
For price enquiries and further information please contact 0208 428 5516